Peter Fogels Humor Products
Books And Humor Products That Will Flat Out Make You A Respected Member of Society, Sexier, & a FUNNIER PERSON!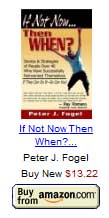 Humorist Peter Fogel's Amazon.com best selling, "If Not Now… Then When?
Stories and Strategies of People Over 40 Who Have Successfully Reinvented Themselves. This book will motivate you to reinvent your life and career. Funny, heart felt stories loaded with practical sound advice. Includes Steve Schirippa from "The Sopranos"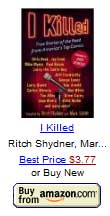 Read "I Killed" Road Stories of America's Top Comedians…Peter Fogel is featured in this book along with Chris Rock, Paul Reiser & Jerry Seinfeld and many other heavy hitter funny people. It's HYSTERICAL and it all HAPPENED!
Wait! This Is Your LUCKY DAY! Scroll Down To Get MORE Humor Goodies!
Want To Take Me Home And Have Me All For Yourself?
Better yet… want to share me with all your friends? Of course, you do! Well, now you can when you purchase my comedy CD "Almost Live From NYC" Here are my live performance as well as many of your favorite comedy shows that I've appeared on.
Programs such as Evening at "The Improv," Caroline's Comedy Hour," "Comic Strip Live," "Comedy on the Road." "HBO's Comedy Central."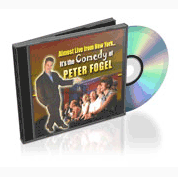 Join me and such celebrities hosts as comedy legend John Byner, John Davidson, (Yes, the guy from the game shows) Ernie Hudson (Ghost Busters) Shirley Jones (Mrs. Partridge) and LAUGH away your STRESS! (rated PG13)
Only $12.00 and I'll even pay for shipping and handling.
I'm still laughing. Great comedy CD from an "old school" comedian whose material is top notch. You don't have to be "off color" to be funny and Peter proves it!" Jill Lambert, Publicist
"Forget the book Men Are From Mars Woman Are From Venus…Peter Fogel gives a women a hysterical insight into the male psyche….The ultimate woman's (and man's) MUST LISTEN to CD." Robin Liftman, Fan
Just think: For the cost of two Starbucks lattes you now have the gift of LAUGHTER! Your satisfaction is GUARANTEED! So much so, that if you're NOT thrilled with the CD and you put it on E-bay I guarantee to buy it BACK from you. Wait! Purchase today … I'll even autograph it for you which will add $2.25 MORE value it! (Cha-Ching!) Also, a portion of the proceeds go to DISABLED VETERANS OF AMERICA. So help some veterans – get some laughs — and you're good to go.
"Hope you got this e-mail. Just wanted to know that I loved your live show… and now I love your comedy CD 'Almost Live From NY.' Very funny!" F. Dickey, N. Jersey
"This CD may make George Carlin stay in rehab indefinitely. It is as funny as it gets…since belly laughing is the only exercise I get; my doctor recommended I listen to it for twenty minutes three to four times per week. Kathleen Kern Emmy Award nominated Producer
"I have worked with hundreds of comics, and Peter is one of a rare breed…clean and funny! A special act not to be missed and a very funny CD to listen to!" Martha Gay, Comedian Actor
What are you waiting for? CLICK HERE now to order!